Lamb Rib Chops, 100% Grass Fed and Finished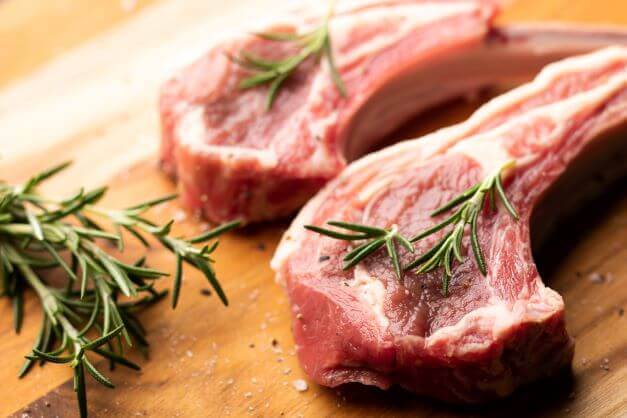 Lamb Rib Chops, 100% Grass Fed and Finished
Each vacuum-sealed package contains 2 rib chops.  These tasty lamb chops are perfect for grilling and are highly recommended by chefs.
100% grass-fed AND 100% grass-finished lamb
Humanely raised on lush pastures
Raised on pasture, our lambs are entirely grass-fed and grass-finished. This type of grain-free diet produces a more lean and more flavorful lamb chop.
Free delivery on orders over $129
Shipped from our Sussex County farm in Wantage, NJ, your purchase arrives via FedEx. Each frozen lamb item is carefully packaged in thick insulated thermal containers and loaded with super cold gel packs.
We ship from NJ to these states: CT, MA, NH, NJ, NY, PA, RI, WV
Contact us if you would like to make arrangements for shipping to other parts of the US.
Minimum order $60
In the unlikely event you are not completely satisifed with the taste and quality of your order, or your order arrives damaged, spoiled, or contaminated in any way, please contact us right away and we will be happy to send a free replacement or issue a full refund.
If anything about our refund policy is unclear or you have more questions please feel free to contact us.
Wormuth Farm
Welcome to Wormuth Farm, where we're passionate about bringing you the finest quality pasture-raised chicken and lamb. Our chickens and lambs roam freely on lush, verdant pastures, enjoying fresh air, sunshine, and a diverse diet. This ethical and sustainable approach results in mouthwatering, tender, and flavorful meats that elevate your culinary creations.
By choosing Wormuth Farm, you're not only treating your taste buds to an unparalleled dining experience, but you're also supporting a healthier, happier lifestyle for our animals. Come taste the difference our dedication to animal welfare and sustainable farming practices make. Your family and friends will thank you for it!